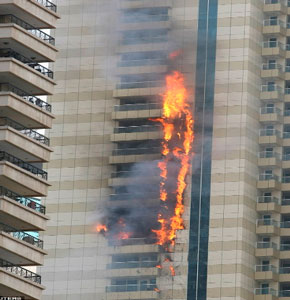 After the fires in Grenfell Tower at London, UK in 2017 that unfortunately killed over 72 people and injured dozens of others, at Baku Azerbaijan (17 losses), at Dijon France (7 losses), at Shanghai China (53 losses), several fires at Dubai and Australian without losses and many other similar fire episodes, the local authorities decided to act seriously. In the last year regulations were amended, materials were prohibited and plenty of buildings are undergoing re-cladding works.   
Usually high rise buildings require a full-scale mock up tests (as BS8414, NFPA285, ISO13785, etc.) and material combustibility tests (as EN13501, ASTM E84, etc.) to confirm the fire performance of part of façade or if the material is in compliance with legislation. However this tests in most situations are not clear and not arise the in-use real application. In the end, the above tests fail on the evaluation of a fire real scenario as a whole picture and geometry, fuel load, façade perforations, cavities, external factors as wind and many others are not properly considered.     
Therefore, it is imperious that the construction industry develops, as much as possible, solutions with special fire behavior to help designers, specifiers and insurers to have enough confidence to ensure the level of building fire safety that protects the building property, as well as, human lives.
Aligned with the above, Effisus has develop and is introducing in the European market, the EFFISUS Breather FR membrane –  The one and only A2 Class fire rated solution!
Presents a fire resistance, class A2-s1, d0 according to the European Standard EN13501-1:2007+A1:2009. It is a membrane with fiberglass basis (95%), which among other characteristics as high tensile strength, a dimensional stability that does not vary with atmospheric conditions, a high resistance to heat ≈ 1500 °C, excellent chemical resistance and high durability.
Effisus FR, besides its excellent fire resistance, is UV-resistant, windtight and watertight.
The following table explains the differences between Effisus FR key features when compared with standard membranes available on the UK market:
Table1. Effisus FR comparison with standard membranes available on the UK market
Facade Membrane market overview
Core Characteristics
Market Option (1)
Market Option (2)
Market Option (3)
Effisus FR
Effisus FR vs Market Options (%)
Tensile Strength (MD/XD) (N/50mm)
300/290
300/275
220/200
2015/1725
+600 %
Nail tear resistance (L/T) (N)
45/40
180/220
75/75
328/256
+80%
After Ageing
Tensile Strength (N/50mm)
  240/240
N.I
  N.I
2800/2210
+1000%
Resistance to fire
Class B
Class B
Class B
Class A2
The one and only A2 Class membrane
N.I. Information not available