Effisus AllTiteGutter
Waterproofing liner for gutter repairs
Effisus AllTiteGutter is a waterproofing membrane for the repair of deteriorated gutters. It is a very flexible and self-adhesive EPDM waterproofing membrane, featuring state of the art technology, that brings everlasting sealing security to the most critical parts of the roof – gutters.
A gutter is usually the first area of a roof to get seriously damaged. At the same time it is an area that is quite often difficult to repair with traditional methods or materials – there are limitations of spacing to work, sharp edges, high movements, etc. Effisus AllTiteGutter is the ideal solution to overcome such challenges and assure a waterproofing gutter, with an easy and quick installation method. Details are quickly solved in conjugation with the Effisus Bond FT Tape.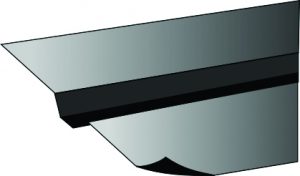 Effisus AllTiteGutter – The waterproofing solution for gutter repairs!
Effisus AllTiteGutter:
Self-adhesive EPDM membrane
No limitations on dimensions
Fully customisable
Expected service life of 50 years
Service temperature from -30oC to +120oC
Permanently flexible
Unaffected by permanent contact with water
Resistant to structural and thermal expansion
No need for soldering or heavy machinery
Universal – Compatible with any gutter dimensions or configuration.
Flexible – Fully adapts to sharp edges or closed angles.
Durable – Resistant UVs and extreme temperature changes – service life of 50 years.
Robust – High elongation capacity – handles structural movement.
Easy to install – Self-adhesive membrane and accessories with no need for hot-welding.