A – Polycarbonate on roofs – Benefits and drawbacks
Polycarbonate has a series of advantages that makes it a very interesting choice for certain roofing applications, when compared with glass or acrylic. It is:
a very strong and resilient thermoplastic material – virtually unbreakable with 250 times the impact strength of float glass and 30 times that of acrylic
can withstand force
extremely lightweight
capable of withstanding extreme temperatures
resistant to heat, sunlight, snow, and rain – lasts without fading or discoloring
has an UV blockage feature
As said before, due to above mentioned qualities it is an effective roofing material for many applications, being used more and more on structures such as:
decks
garages
patios
sheds
conservatories
pool covers
roofing on industrial warehouses
awnings in commercial buildings
As the panels are extremely light in weight, they can be easily transported and installed wherever they are required.
Nevertheless polycarbonate panels have a few disadvantages when they're compared to plastic or glass:
they are not scratch resistant
have a quite high coefficient of linear thermal expansion – its value equals 0,067 mm/m*ºC, which is one of the highest values of this parameter among currently used construction materials.
its particular surface properties represent a major difficult for the bonding of adhesives or sealants
B – Joints on polycarbonate – The no.1 challenge when working with polycarbonate roofing structures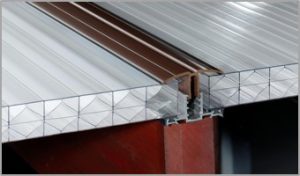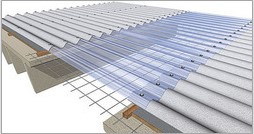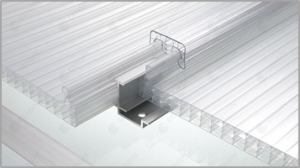 Typical joints on polycarbonate structures
High linear thermal expansion of polycarbonate has to be taken into account during the process of installation – sheets should be loosely, rather than rigidly installed within the profiles, which enables the expansion of the material under temperature changes. The aluminum profiles system should be designed with regard to these conditions.
However, most of the times, the high expansion and movement of the panels puts so much pressure on joining materials, making it to failure and break. Many times the sheets start coming out or bulging. This is the no.1 pathology associated with polycarbonate roofing structures.
A failure of the joints of such systems represent a major failure of the system, as it represents water leakages, damages on roof components and its interior, contributing to the rapid degradation of the building. To the roofing contractor water leakages are the no.1 cause for additional costs after the installation is concluded.
Most of the times, the solution will be sealing these joints with silicone or similar materials, or using standard bitumen or butyl sealing tapes. These solutions are not able to absorb the movement – silicones – and do not adhere properly to polycarbonate – tapes will get loose from the substrate very soon.
C – Sealing polycarbonate joints – Effisus Easyrepair: the solution
The Effisus Easyrepair Tape is the ideal solution to seal joints on polycarbonate sheets. It creates a waterproof, moisture, and airtight barrier, with no additional sealing required. It has an exceptional adhesiveness to polycarbonate and is installed in a fast and easy process.
It can be used to seal joints between polycarbonate sheets, or joints between polycarbonate sheets and other construction materials, such as metal, concrete, plastics, etc.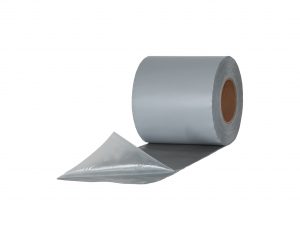 Effisus Easyrepair – Main advantages:
Exceptional adhesiveness on polycarbonate and other construction materials
Permanent sealing of any joint or leakage point
Easy and fast installation, with no need for accessories
D – Effisus Easyrepair on polycarbonate joints – Typical applications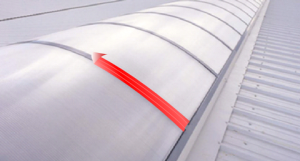 1 – Sealing joints on polycarbonate curve skylights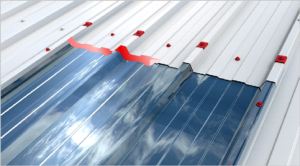 3 – Sealing joints between polycarbonate sheets and corrugated metal roofs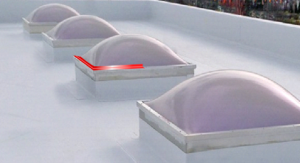 2 – Sealing joints between metal flashing and polycarbonate skylights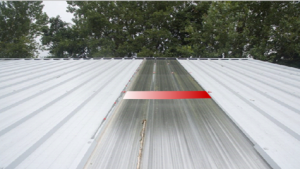 4 – Sealing joints between polycarbonate sheets
EFFISUS EASYREPAIR: SEALING POLYCARBONATE JOINTS – CASE STUDY 1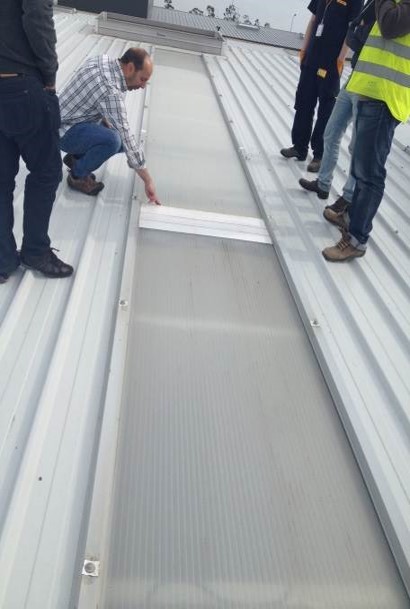 1 – Industrial building – Joints between polycarbonate panels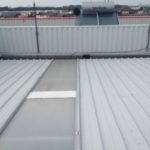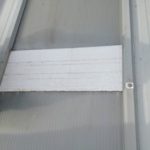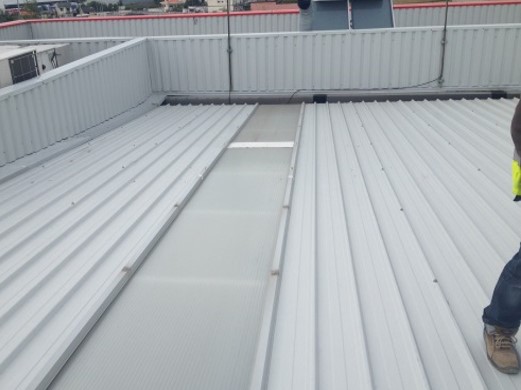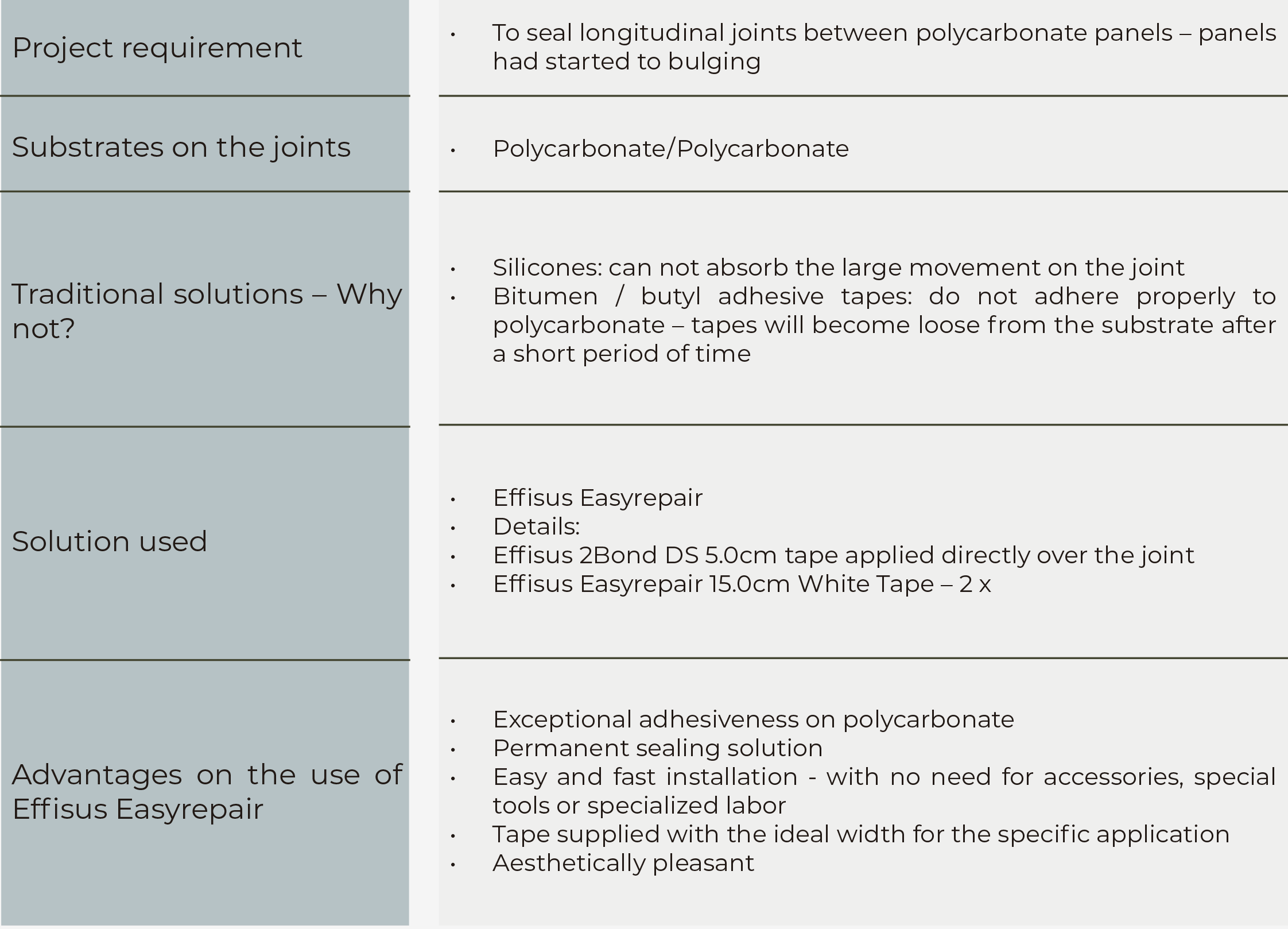 EFFISUS EASYREPAIR: SEALING POLYCARBONATE JOINTS – CASE STUDY 2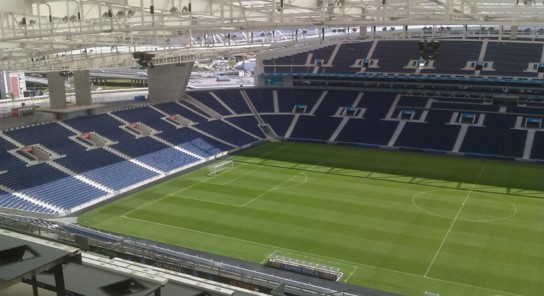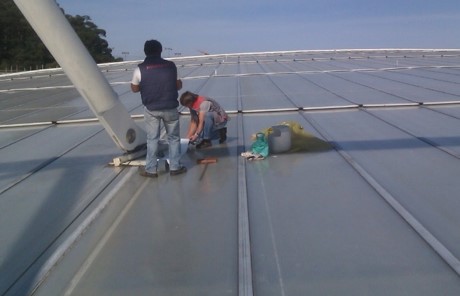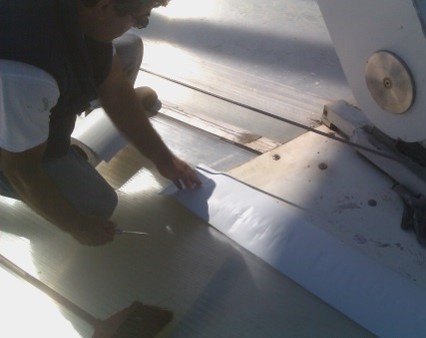 1 – Football stadium – Joints between polycarbonate and metal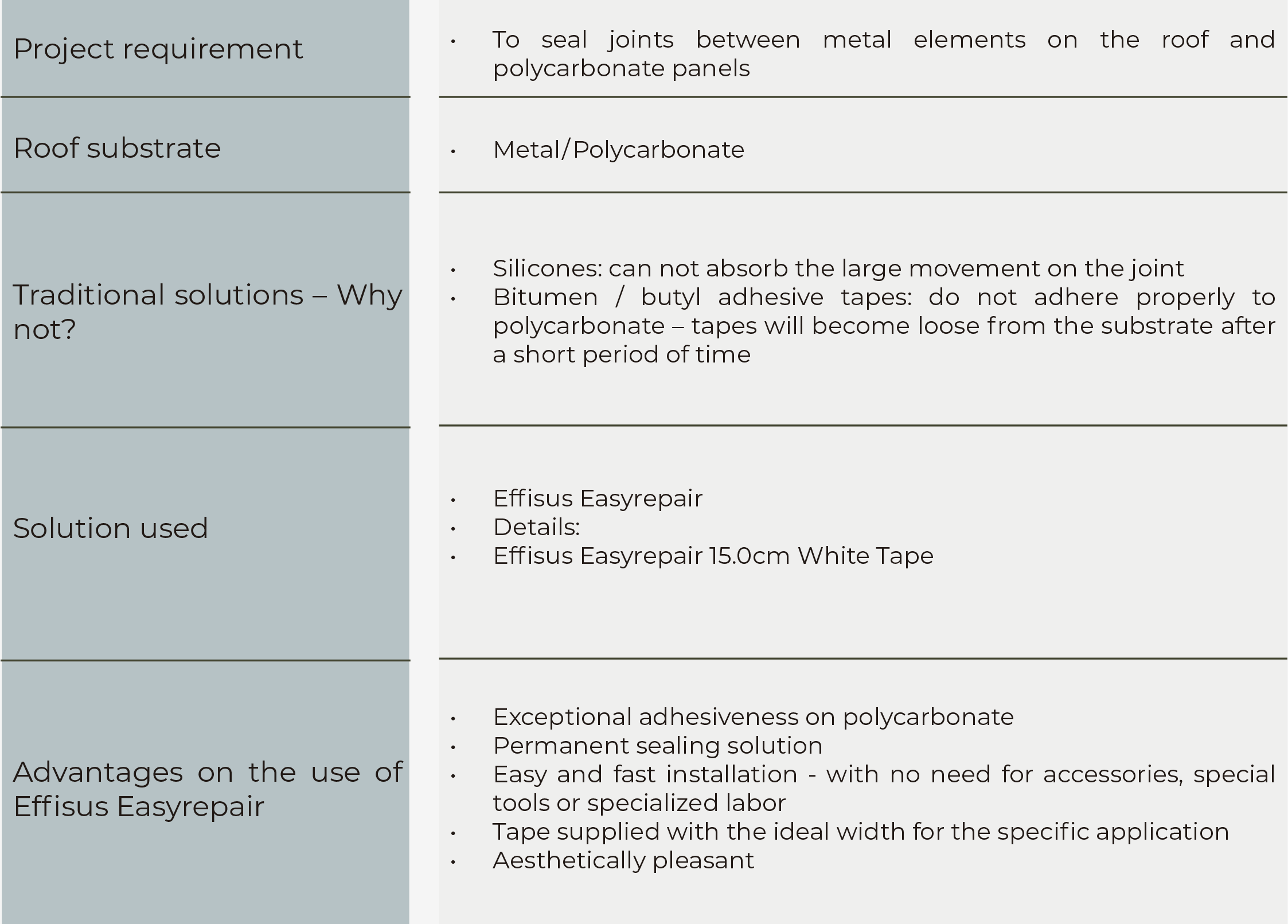 EFFISUS EASYREPAIR: SEALING POLYCARBONATE JOINTS – CASE STUDY 3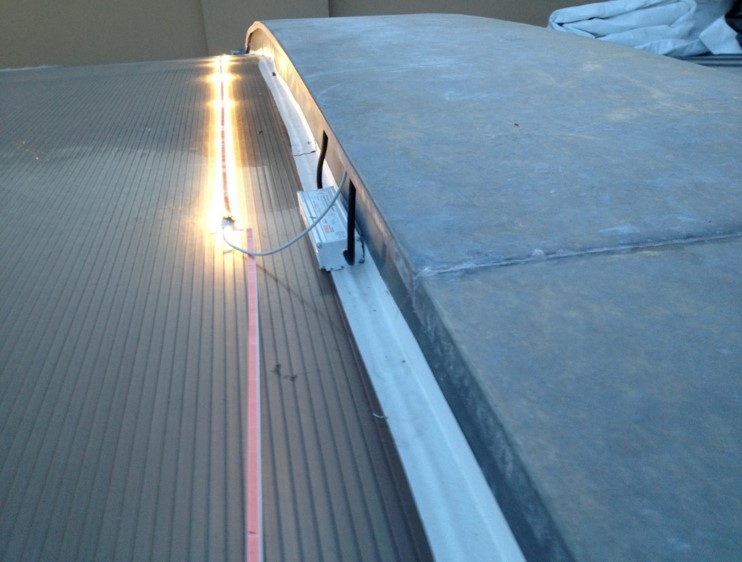 1 – Commercial building – Joints between polycarbonate and me