Effisus Ecofacade Pre-fab Profiles
Structural glazing and window weatherproofing engineered profiles
Effisus Ecofacade Pre-Fab Profiles are the outperforming system for a seamless facade-to-window connection sealing job. 
Due to their edges and shapes, window frames waterproofing jobs, have always required a large amount of time and generated a large amount of waste and sealants consumption, but not anymore. Since the profiles are customized and pre-fabricated according to specifically fit into each window aluminum profile, a time-saving, error-free, long-lasting installation is assured. These are customized to fit any frame, thus providing an unprecedented speed and ease of application, in junction with unrivalled protection and durability.
With Effisus Ecofacade Pre-Fab profiles, waterproofing window frames and any other façade connections becomes an efficient and sustainable job. Not only is time saved, but also, the probability of installation errors is eliminated, needed labor is reduced and performance is assured, more than ever.
Why should you choose Effisus Pre-fab Profiles ?  
Efficiency
Fully customizable dimensions and configurations
Complete and integrated System
Resistant to UVs and ozone
Service temperatures from -30ºC e +140ºC
Permanently elastic
Elongation of up to 300%
Both thermal and structural vibration resistance
In-factory pre-fabrication and vulcanization
Sustainability
Expected durability of 50 years
High impact on the longevity of the building
Reduced maintenance requirements
Recyclable materials
Reduction of wastes by customizing solutions
Reduction of wastes due to absence of adhesives
Inspection-friendly
Effisus Ecofacade Pre-fab Profiles – Structural glazing and window weatherproofing engineered profiles
Total customization: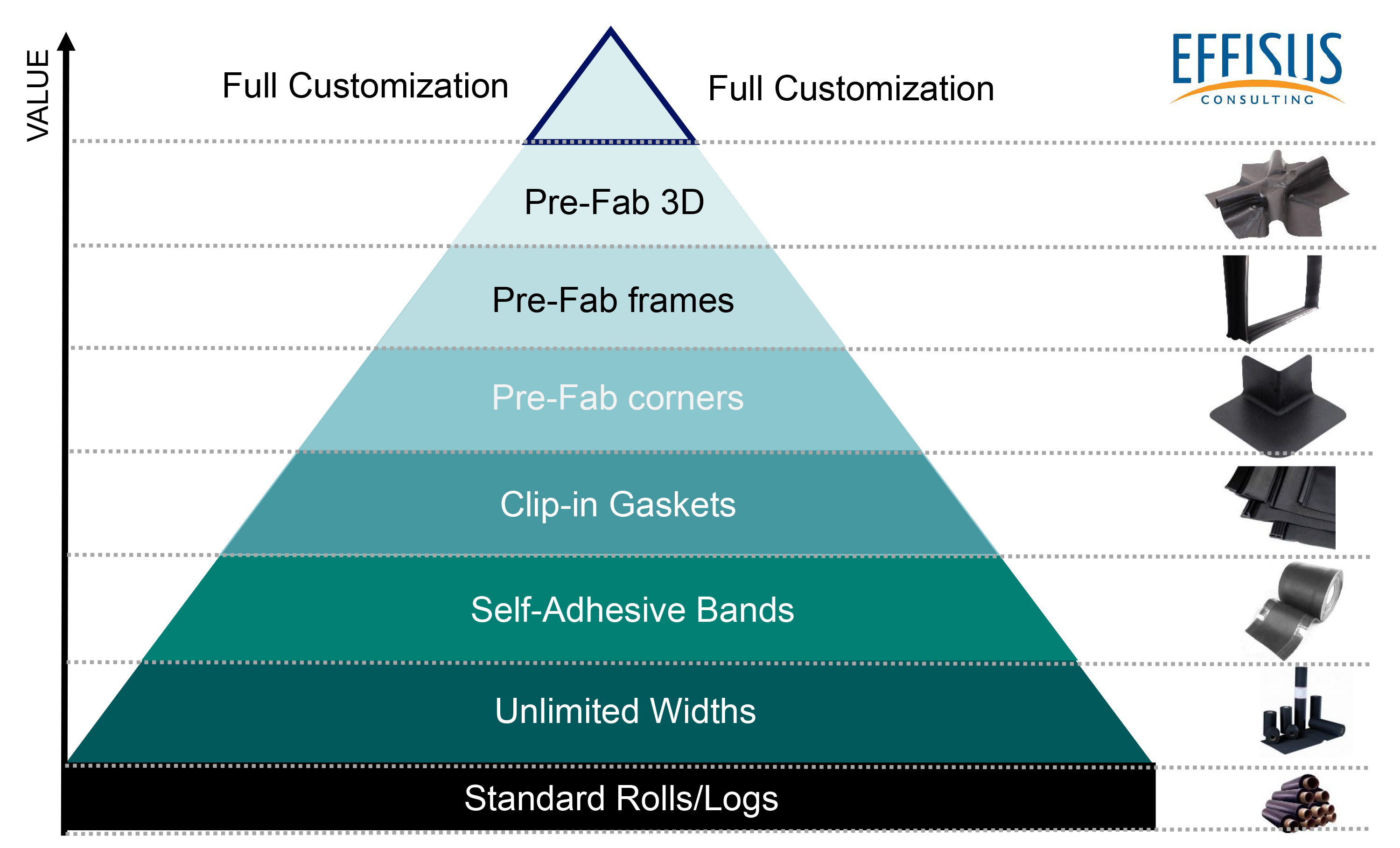 In combination with Effisus Ecofacade Membranes on
Connections in ventilated facades
Connections in curtain walls
Connections in traditional facades
Connections in pre-fabricated facades
Projects with Effisus Ecofacade Pre-fab Profiles