The solution to the nº1 cause of leaks on roofs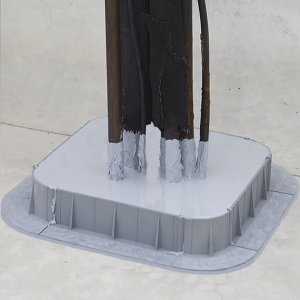 Effisus Stopper seals the most common source of water leakages on roofs: roof penetrations of any size or configuration, such as mechanical equipment, electric conduits, pipes, ventilation ducts or solar panels, for example.
Solutions traditionally applied to seal such penetrations do not have the necessary resistance to the aggressive conditions to which they are subjected: repeated cycles of load, heat, cold, moisture, water ponding, and ultraviolet. Effisus Stopper is an innovative solution that seals such penetrations effectively and definitely.
Effisus Stopper is an extremely versatile solution, with precast molds that are bonded to the roof (or façade) substrate, creating a cavity, adaptable to any configuration, that is filled with innovative sealants with no need for mechanical fastening. It can be installed on the most common roofs: asphaltic membranes, PVC, TPO, EPDM or metal. Application on sloped, metal roofs or even facades is also possible.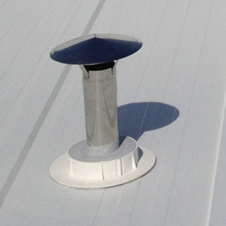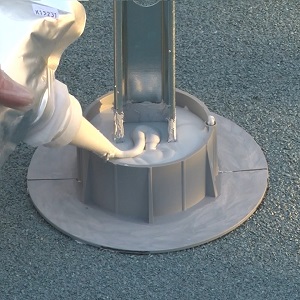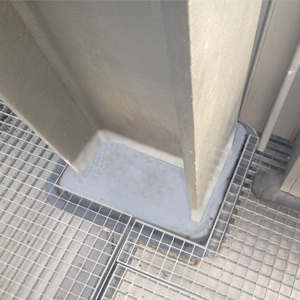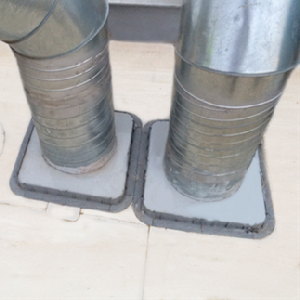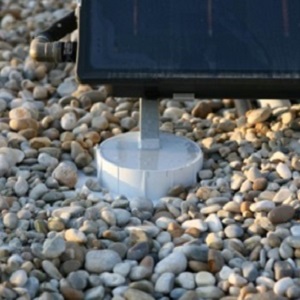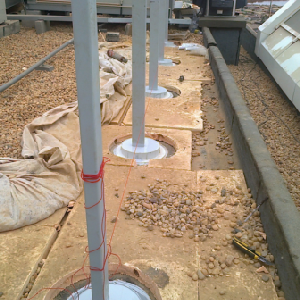 Solution advantages
Easy to install – installation in under 15 minutes.
Resistant – waterproof, UV and ozone stable, resistant to ice and standing water.
Universal – compatible with all membranes and materials (TPO, PVC, EPDM, Bitumen, Concrete).
Flexible design – adaptable to any size or configuration.
Economic – at a fraction of the cost of any traditional solution.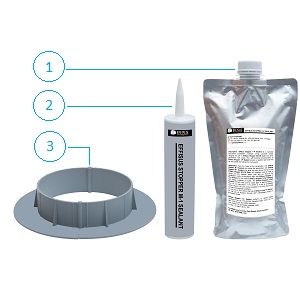 1. Effisus Stopper 1-P Sealant – Self-levelling sealant to fill the molds in horizontal applications. When applied, it ensures a 100% waterproof element, while being permanently flexible, resistant to UV's and to high temperatures. Elongation capacity of up to 300%.
2. Effisus Stopper M-1 Sealant – Structural sealant for gluing the Effisus Stopper EC / EC molds to the structure. Without solvents, applicable to horizontal or vertical surfaces, resistant to UV's. Does not suffer volume changes during its lifetime.
3. Molds Effisus Stopper EC/CE – Prefabricated molds in polyester resin, with high durability and resistance to UV's. Different sizes and configurations available, allowing a perfect fit to any configuration.
Other filling sealant options for special applications:
Effisus Stopper SAS Sealant – For vertical or tilted applications. Does not drip and does not shrink.
Effisus Stopper SAS HT Sealant – For applications (vertical or horizontal) where the surface temperature can exceed 100ºC. Resistant to temperatures of up to +204 ºC
HVAC penetrations
Solar panels
Equipment support structures
Guards
Electric cables
Antennas
Sloped roof
Vertical walls
Ducts with temperatures up to 204ºC
Cultural Center – Leisure Complex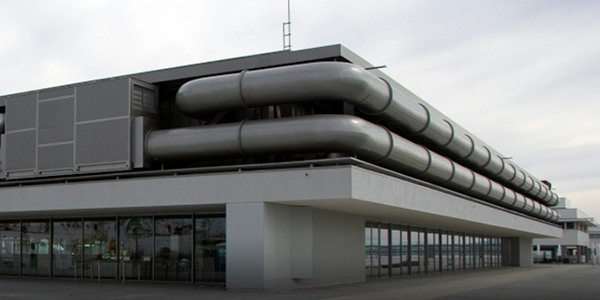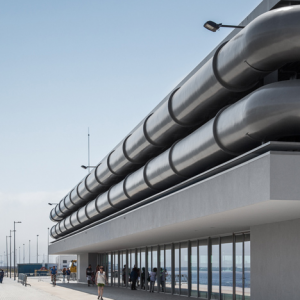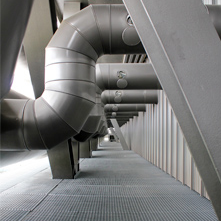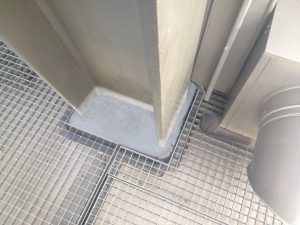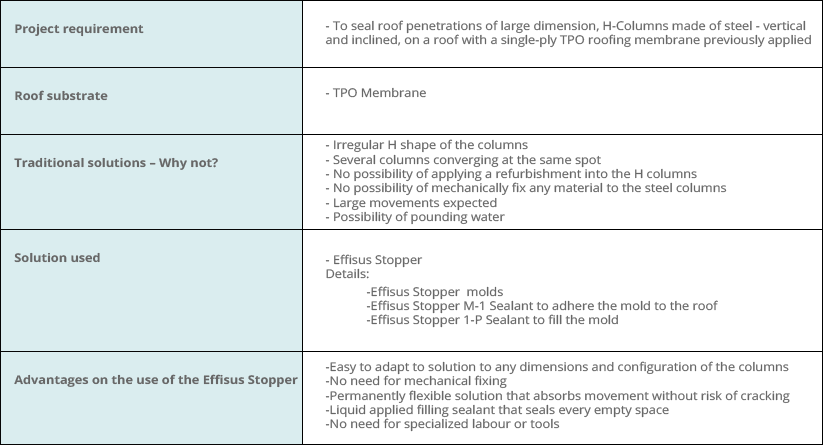 Shopping Center Xyami – Commercial Building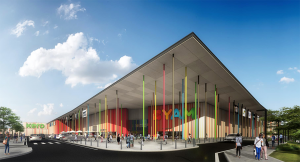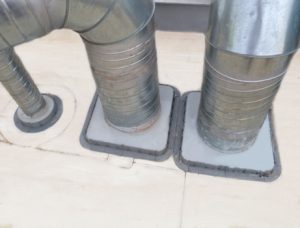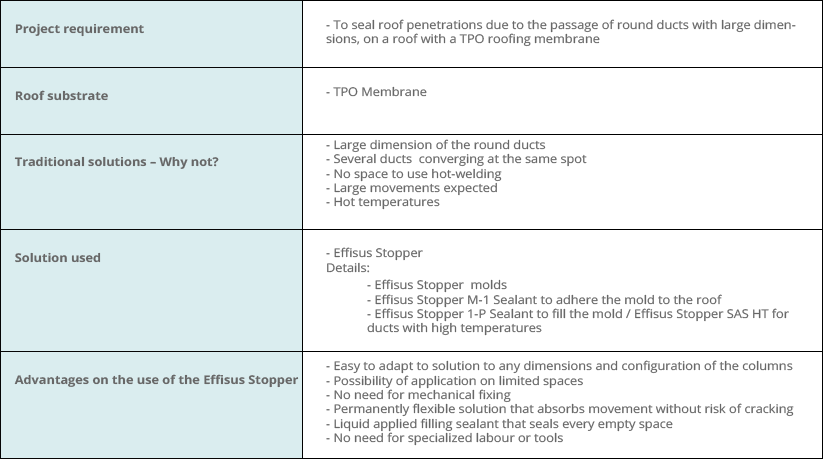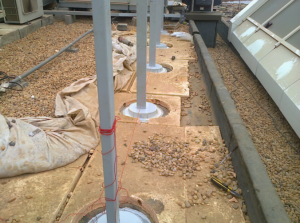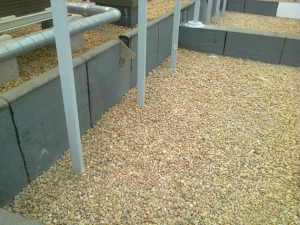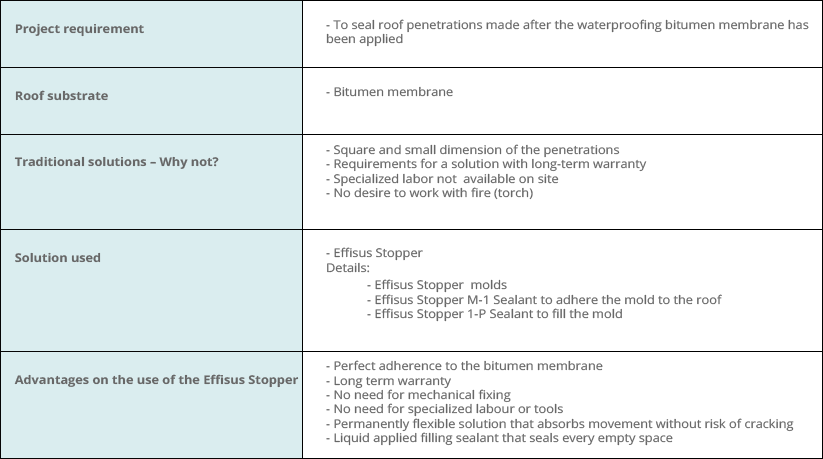 BOSCH R&D and production facilities – Industrial Building