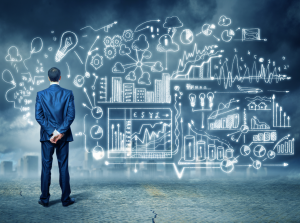 At the present time, the competition between companies is stronger and extremely difficult! For those who are in the game becomes a challenge to find space for innovation and differentiation in a busy market rated by low prices or price orientated.
Obviously, the result of the above paradigm is standardization! Standardization on organizations, business models, industry, project, and products. Therefore if a client or a project requires a non-standard approach the current market provides limited solutions and always involving a big amount of time and money.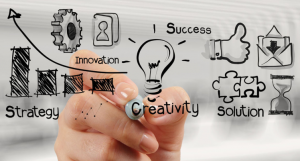 We believe that the breakthrough is grounded in knowledge, experience, and expertise, well known as, Consulting.
Taking the above as valid it is almost impossible to have a full domain of all the areas! It becomes essential to find highly skilled professionals consultancy in some specific areas.
On facade, weatherproofing thematic is crucial Consulting. Taking into consideration each project constraints it is always a set back to find the best facade solution for each project.
It is therefore essential to listen to the client needs and fully understand the requirement in detail. In this phase should be auscultated the below:
Project Technical requirements;
Materials involved and compatibilities between them;
Methodology – Method Statement;
Site conditions;
Project Schedule;
Client Goals;
Transportation.
To acquire all the information above it is therefore crucial to fully analyze all the inputs and how they interact with other variables and identify existing incompatibilities versus accurate or possible solutions.
The thorough job should be done with a conceptual/preliminary design. At this stage is important to have flexibility and technical knowledge in order to find the most accurate and effective solution that suits the project goal. Sometimes the solution can be an alternative or a complement of standard and conventional solutions.
The above non-standard approach is supported by compatibility tests, product technical analysis and feasibility evaluation into the project methodology, site conditions, project schedule and other constraints in order to technically validate or eliminate each solution.
It is important to finalized the technical assessment by presenting them in details correlating to each tangible solution in relation to the project inputs, highlighting the pros/cons for further discussion.
Finally, your consulting should pursue a solution agreement with the client and only if this meets consensus we move on for the next phase.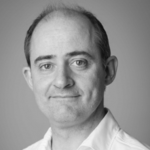 Mr. Ignacio Fernandez
ARUP Associate Director | Facade Design & Technology Specialist
"Detailing for building envelopes is becoming trickier these days. We need to balance more exigent and contradicting requirements as building science progresses.
An especially difficult area is the contact zone between facade elements where we are, by definition, "out of the catalogue. Consulting in the business world may not always have a good reputation, however it is key to identify and solve potential issues where separate systems get in contact, or when one system crosses over another. These points may be the perimeter of a window, the joints of modular construction at the cladding, external beams or cantilever penetrations, roof to parapet to wall clashes, etc.
Here is where knowledge and experience are most valuable. After all, water, dampness, vapor and air can pass through very tiny joints! At these points a consultancy-based, open minded approach is essential."
As a Consulting example, we have frequently facade penetrations that need lose technical analysis in terms of weatherproofing thematic.
I many facade building projects the penetrations through a rain screen cladding, flashing sheets (or other) are not part of the project dealing and therefore they are currently solved at the site without the time and proper step, leading to an inefficient solution and sometimes involving extra high costs not budgeted. The facade system scheme is always a different concept and it is almost difficult to have a standard solution that corresponds to each different project requirements.
Therefore a different non-standard approach is extremely required almost at the initial project phase.
Before any step, listening to the client needs is crucial. During the design of the facade perforations it is highly recommended to be acquired from the following aspects:
a) Quantity and Geometry of the facade perforations;
b) Method of Installation of all the facade elements/materials;
c) Architectural constraints;
d) Movements to be considered on the interface between the perforation and facade elements;
e) Watertighness/ Air/Wind facade requirements;
f) Compatibility analysis for the substrates and adhesion;
g) Site conditions: Temperature/Humidity/Wind;
h) Project Schedule.
It is possible to have plenty of solutions and the above information is relevant to define the next phase.
Consequently all the information collected has to be treated and studied in detail.
Below some pratical examples of different projects with a different non-standard solution:
a) Facade Coping Detail:
Perfuration: Steel H beam through facade flashing
Solution: Effisus Ecofacade Customized Mold (with open joint)

Project Requirement: Waterseal the steel beam perforation.
Project Contraints: Movements expected between elements. Wind and driving rain. Method of installation. Perforation geometry.
b) Facade Structural Rod Connection:
Perforation: Structural rod through facade curtain wall
Solution: Effisus Ecofacade Pre-Fabricated Piece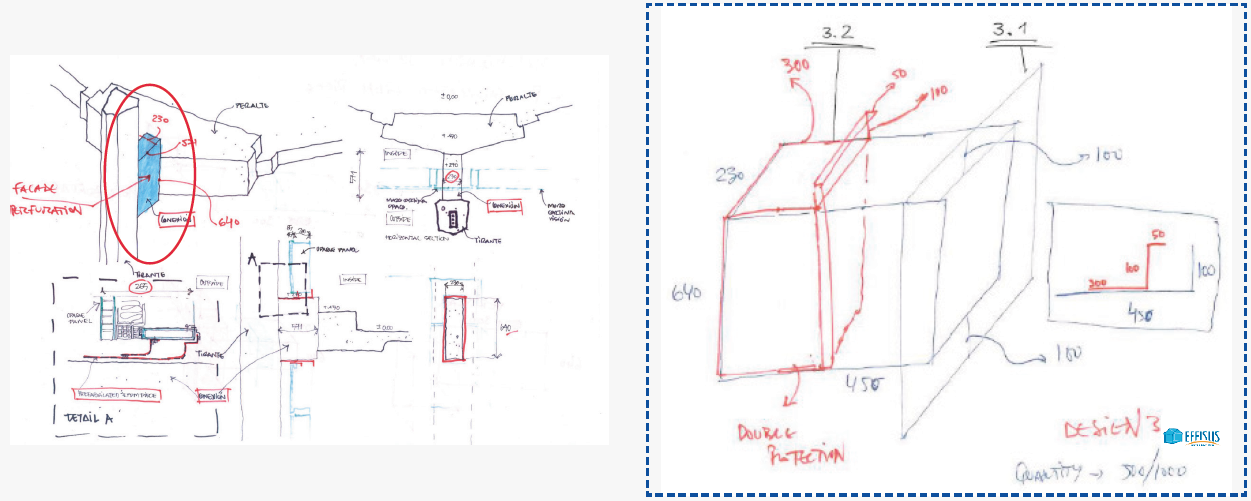 Project Requirement: Waterseal , Air/Vapour barrier of the structural connection perforation.
Project Constraints: Movements expected between elements. Method of installation.
c) Facade Balcony Detail
Perforation: Structural steel box through facade
Solution: Effisus Ecofacade Mould (with close joint)

Project Requirement: Waterseal the steel beam perforation.
Project Constraints: Movements expected between elements. Architectural design. Method of installation. Perforation geometry.
d) Facade/Roof Intersections
Perforation: Structural beam through facade windows flashing
Solution: Effisus Stopper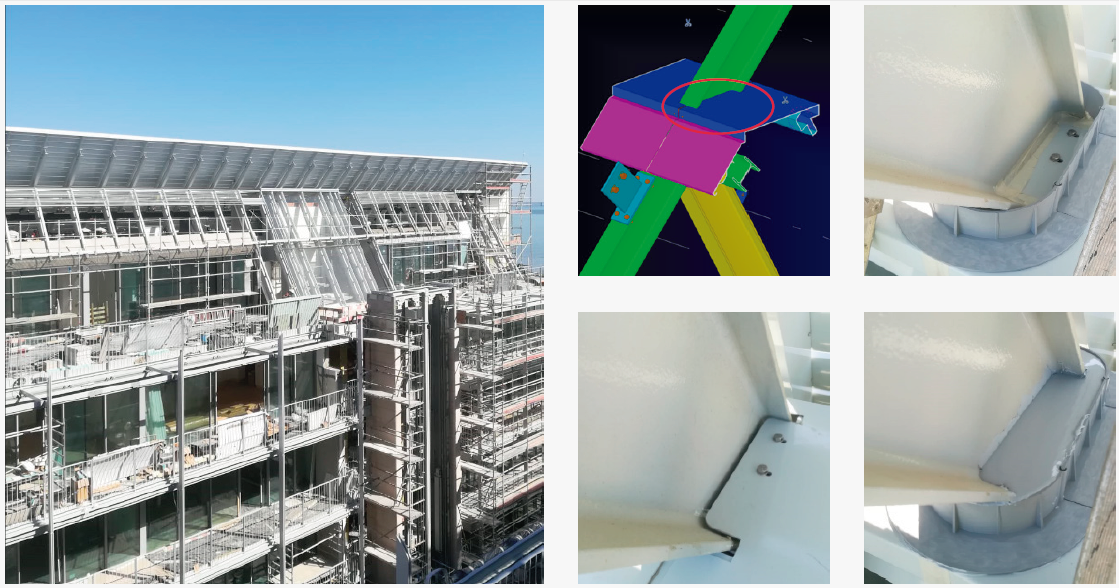 Project Requirement: Waterseal the steel beam perforations.
Project Constraints: Movements expected between elements. Wind and driving rain. Method of installation. Perforation geometry.
To conclude these analysis, it should be noted that Consulting is a key element to find several weatherproofing solutions for the facade perforations in order to achieve an efficient product that fulfills the project requirements, that always generates a value engineering always with cost saving for all the parties involved: Facade Contractor; Main Contractor; Architect, Developer, and End User.